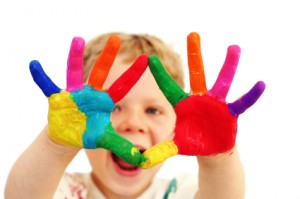 A fun, non-threatening way to introduce kids to art is through using magazine photos and words to express their personalities!
Kids can sometimes be intimidated by art materials as well as their abilities to produce art, and using magazines can help reduce that fear or performance anxiety.
There is no skill required!
You only need magazines, scissors, and your choice of paper to glue the pictures and words on to.
There are also many themes and ideas that you can choose from for your child or teen to explore.  Some of the themes may be related to a particular issue they may be wrestling with or can even be just for fun.
A popular magazine photo collage theme for kids to create is, "All About Me."  Kids are encouraged to find pictures and words that describe who they are, as well as their likes and dislikes.  Many kids also choose to decorate their collages using glitter glue, markers, and stickers.
Here are some questions you can write out for your kids to search for in magazines to tell their visual story:
Design your name using letters from magazines
What is your favorite color?
What is your favorite animal?
What is your favorite subject in school?  Your least favorite subject?
What is your favorite food?
What hobbies do you have?
What do you like to do with your family?  With your friends?
What is your favorite movie?  Your favorite TV Show?
What kind of music do you like?
Find a word that describes YOU!